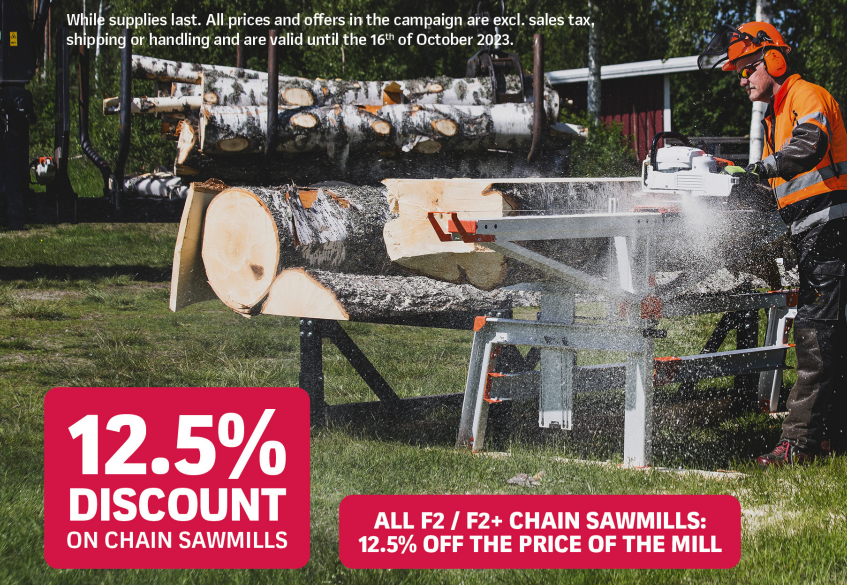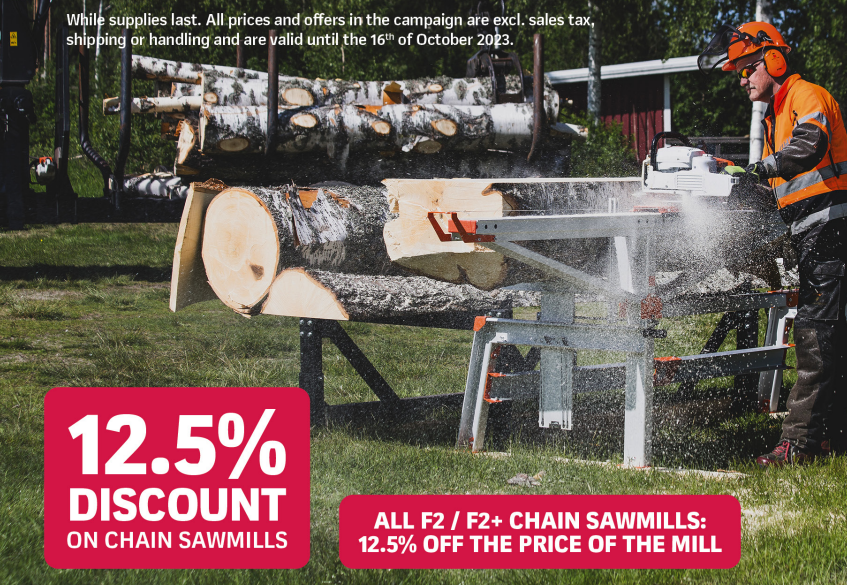 Fall Campaign
Here's the deal, we have some great deals on Chain sawmills this fall! Don't let them go by!
Regular price
Sale price
$3,370.00
Unit price
per
Sale
Sold out
The F2+ is an F2 on steroids! This sawmill is sturdier, heavier and meets the demands of customers who want an extra-robust sawmill for sawing large logs. The log lifters are modified to stand up to the stress of up to 27.5″ diameter logs! Mill up to 19′ worth of log with the option to extend the rail bed!

Weight: 143lb
Length: 13′ 1″ as standard, but it can be extended to the desired length.
Width: 36.5″
Height: 42.5″
Log-loading height:: 23.5″
Distance between log lifters: 39.5″ or 78.5″ options
Log diameter: 27.5″
Log length: 12′ 1″
Max. log weight in its standard configuration: 2645lb
Effective sawing capacity: 3–4 logs per hour.
Accessories: All the previous F2, M8 and F1 accessories are compatible.
Saw units: You can use any professional chainsaw with a motor of minimum 70cc.
A sturdier chain sawmill – for the really large logs!
Now we can introduce a new, bigger version of the best chain sawmill in the world. The F2+ is an F2 on steroids! This sawmill is sturdier, heavier and meets the demands of customers who want an extra-robust sawmill for sawing large logs. All essential parts of the sawmill are oversized to stand up to the stress of heavier logs, and to create the space needed for wider logs, the log beds have been extended 7 3/4″. Even though the F2+ is bigger and a bit heavier than the F2, it has become even easier to handle due to a completely new feature that makes it possible to detach the log lifters while keeping the whole guide rail intact and aligned. It has never been easier to store, transport and set up a heavy-duty sawmill for oversized logs!
Use your own chainsaw or let us help you with one that matches your needs
The design, with a lightweight saw carriage and a 19′ 5″ guide rail, makes the sawmill extremely flexible and easy to use. The carriage slides smoothly on the guide rail during operation, and can easily be lifted off. You can use any professional chainsaw with a motor of minimum 50cc. Call or email us to get advice on the right chain and bar or recommendations on a new chainsaw. You can also equip the sawmill with the Logosol Log Moulder, which can be used with the chainsaw.
Manages all sorts of wood
With the F2+ Chain Sawmill you can cut all sorts of wood, from hard oak to knotty pine. The measurement precision is impressive, and chain sawing gives a smooth surface that is easy to after-treat. The chain removes the sawdust while the timber is being sawn. The boards are clean from sawdust when you have finished sawing.
The F2+ chain sawmill is the ideal sawmill if you want to cut your own timber. This sawmill is just as easy to set up as it is to dismantle for storage. You get a flexible tool with all the functions needed to do a great job. The sawmill can be configured with 6′ 6.75″ between the log lifters for longer logs, or 3′ 3.25″ for shorter pieces.
A maintenance-free lightweight sawmill
The F2+ chain sawmill is made of strong, anodized aluminum, a material with amazing properties. You get a maintenance-free, lightweight sawmill that will never rust and can stand up to logs that weigh 2645lb. In its standard design, you can cut 19′ logs. If you want to cut longer logs, the sawmill can be extended to any length. Extensions are available in sections of 1′ 7.75″ or 3′ 3.25″, and several log lifters can be installed to make it possible to handle larger and longer logs with retained precision. The sawmill can also be upgraded with a variety of accessories.
Advantages
✔ A saw carriage that slides perfectly, and is easy to lift off. Prepared for vibration-damping feeding crank, bar nose steering and water cooling.
✔ An open design; all operations are done standing rather than bent near the ground.
✔ Recommended maximum log diameter has been increased to 27 1/2″.
✔ A two-part construction for easy handling; the log lifters can be detached from the guide rail.
✔ Oversized log lifters and legs.
✔ It stands steady thanks to the longer distance between the feet.
✔ An additional beam stabilizes the frame so that it can carry the weight of larger logs.
✔ Bigger and heavier but can still be dismantled – retains portability.
✔ A lightweight sawmill with minimal setup time. With a few simple steps, the sawmill is dismantled for transport and storage.
✔ The frame is built of 3′ 3.25″ sections that fit in the trunk of a standard car.
✔ A lightweight saw carriage that slides perfectly on the guide rail, prepared for both crank handle and bar nose steering. Chainsaw, electric saw, log moulder and feed unit are compatible.
✔ Durable and dirt-repellent surface. It never rusts.
✔ The sawmill can be extended and upgraded when required.
✔ Strong log lifters with log beds, which together can stand up to one metric ton!
✔ Adjustment of depth of cut in fixed steps gives your timber accurate dimensions.
✔ Adjustable sawmill feet included for steady positioning
✔ Strong locking mechanism of the guide rail sections facilitates assembly and gives increased stability.
✔ Convenient, easy-grip carrying handle for easy moving.
✔ Two log clamps XL are included.
Choosing a selection results in a full page refresh.
Opens in a new window.